Blog Post
Improving Your Hotel's Popularity on TripAdvisor
The Three-Step Strategy Used by Top-Ranked Properties
---
What is TripAdvisor's Popularity Index?
I was recently reviewing some posts on a TripAdvisor discussion forum and noticed this question:
The TripAdvisor Popularity Index incorporates traveler ratings to determine their overall satisfaction. While the platform's algorithms aren't fully transparent, we do know that a hotel's performance is largely impacted by three factors;
The total volume of reviews your hotel receives;
The overall quality of the reviews your hotel receives; and
The recency of those reviews
According to TripAdvisor's former Global Director of Industry Relations (and now CEO of Travalyst), Sally Davey, hotel's should be sure to "engage, frequently and thoughtfully" with guests in order to succeed in achieving success on the platform.
Implementing the Strategy at Texas' Top Hotel
With Micrometrics' deep integration with TripAdvisor, one of Texas' top hotels was able to increase in local popularity on the platform from the #32 property to #3 in the first year of our engagement (and would eventually hit #1 for a period of time, as well!).
Overall Performance Improvements
The property experienced a 259% increase in the overall number of reviews being captured, a 273% increase in the percentage of 5-star reviews, and accomplished this during a one year period, meaning the recency of these reviews was also high.
One of the aspects of the TripAdvisor Popularity Index algorithm that is publicized, but which we believe carries significant weight, is also the number of 1-star reviews as an average (the inverted weighting of 5-star reviews). This top Texas property also saw a significant reduction of 1-star reviews, largely thanks to the ability of our platform to capture guest issues in real time, triage them, and create resolutions that left them feeling satisfied.
Capturing Guest Sentiment Before Their Review
Only 30% of all guest comments collected via Micrometrics' unique channels at this property were request based, with most guests using the platform to to provide insights into how the hotel and their team made them FEEL during their stay.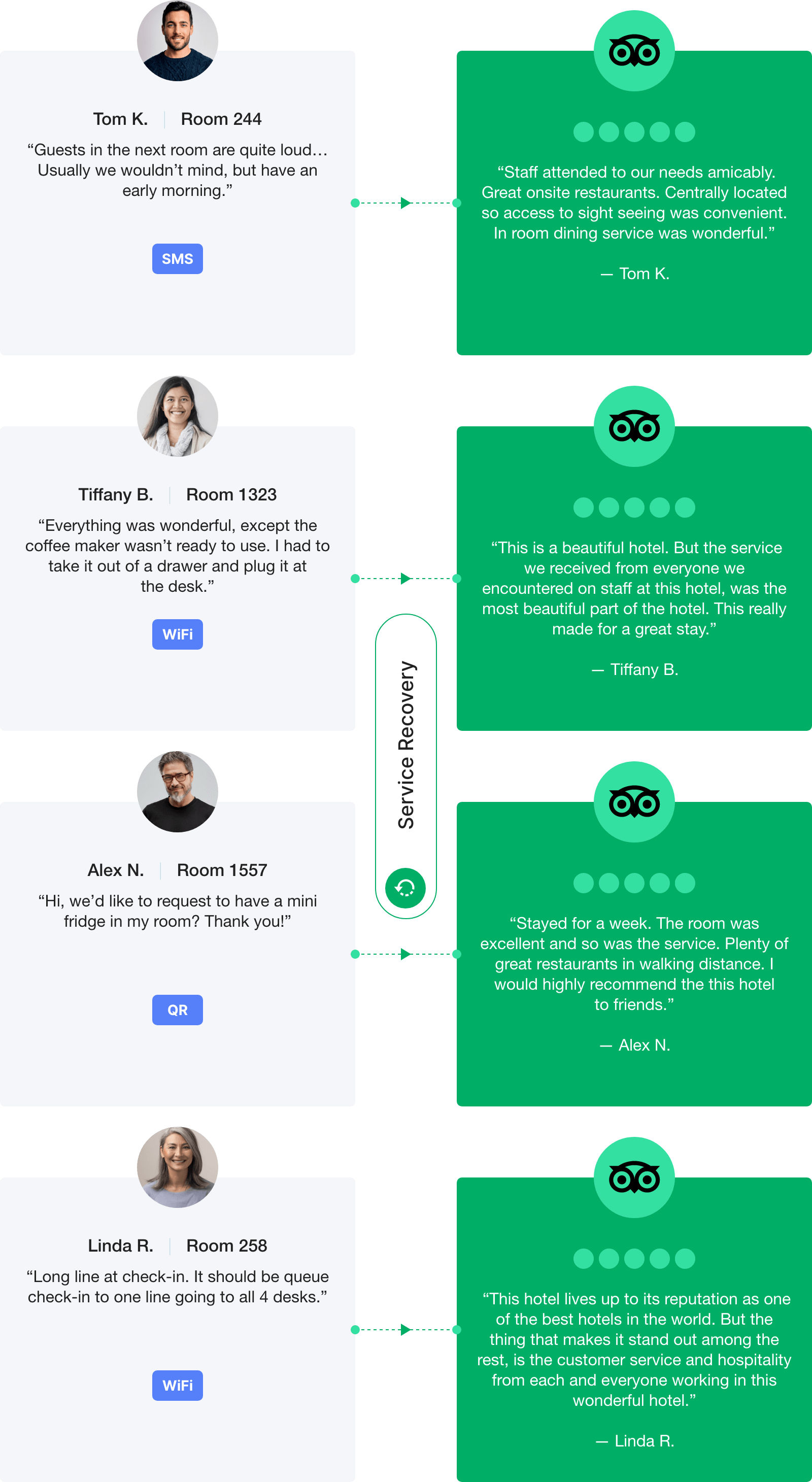 These comments brought unique visibility, allowing the property's guest services team to provide a white-glove service and surprise the guests with individualized recoveries that resulted in 5-star reviews.
When guests have the ability to conveniently connect with hotel staff in real time as they are experiencing a frustration with service, amenities, or their overall experience, the property is presented with the opportunity to change the guest sentiment from negative to positive (or at least neutral) BEFORE they check out and leave a negative review on TripAdvisor and other sites.
View Case Study